Brief Profile – Lead Partner (Director of Operations)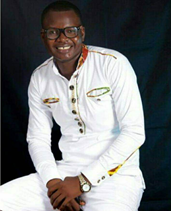 The Lead Partner – Dr. Nana Kwame Nkrumah, Ch.FE
Dr. Nana Kwame Nkrumah is a chartered financial economist, lecturer, management scientist, researcher, columnist and a proud passionate advocate for the promotion and attainment of the Sustainable Development Goals (SDGs). He leads the team with over 8years professional and research experience in banking, corporate financing, micro- financing, investment and portfolio management, education consultancy and economic policy management.
He has worked with reputable think tanks in Ghana and Africa, as a trainee, trainer, facilitator and lead consultant to numerous Ghanaian consortiums, and a freelance financial advisor to most micro and small credit loans companies.
Dr. Nkrumah has extensively published articles in reputable academic journals indexed by Web of Science and has featured as a columnist in the Business and Financial Times and other reputable Ghanaian media publications on several occasions. His current interest lies in business and Entrepreneurial development, financial restructuring, Investment risk and Appraisal, Corporate Governance, Capital Markets development, monetary policies and industrial health and safety. He is specifically in charge of monetary and economic management policies.
Dr. Nkrumah is a Presidential Scholarship winner and holds a Ph.D. in Management Science and Engineering, a Certified Chartered Financial Economist (USA) and an MBA in Finance. He is also a fellow of the Global Academy of Finance and Management (GAFM-USA) and a proud alumnus of the University of Ghana Business School (UGSB) and Valley View University, where he served as a teaching and research assistant.
Dr. Nkrumah hobbies are playing long tennis, football and basketball. He also has peculiar interest in international politics, reading trends in artificial intelligence, tourism and philanthropy.